Cassiopeia loves Grimaldi
April Street

LA based artist April Street explores notions of fiction and absence within her debut London solo exhibition Cassiopeia loves Grimaldi. Street constructs fictional relationships that consider both the tragic and the comic whilst making reference to mythology, theatrical performance and the history of painting. The exhibition lends its title from the constellation 'Cassiopeia', which is rooted with Greek mythology and the British actor / comedian Joseph Grimaldi, who became one of the most renowned entertainers of the Regency era in the United Kingdom.

The constructed dialogues within the exhibition allude towards the absent characters; a large celestial mural occupies a substantial proportion of the gallery, whilst cast bronze ruff collars suggest regal and thematic references. Street has produced a number of relief paintings, which are deeply embodied within ideas of performativity; works from this series manifest from a sequence of scripted positions, where Street imprints her body into pools of acrylic paint, whilst being partially wrapped in yards of hosiery fabric. The residue of these choreographed performances are then reworked via stuffing, twisting and painting to produce vivid abstract wall reliefs, which recalls the feminist practices of the 60's and 70's as well as the theatrical nature of Chiaroscuro from the Baroque and Renaissance masters.

Cassiopeia loves Grimaldi is comprised of layering artefacts and objects, which nod towards a choreographed past. Whilst making stark references to prominent points within art history, Street has developed a body of work that is purposely sheafed in ambiguity, leaving a margin for play and interpretation.

April Street lives and works in Los Angeles. She studied bronze casting in central Italy and painting at The School of the Art Institute of Chicago. Recent exhibitions include Various Small Fires, LA; Carter & Citizen, LA; Rosamund Felsen Gallery, LA; Five Car Garage, Santa Monica, Santa Barbara Museum of Art and Underground Museum, Los Angeles. She is a grant recipient of the National Endowment for the Arts. Her solo shows have been reviewed by ArtForum, Art in America, San Francisco Arts Quarterly, LA Weekly, Hyperallergic and The Los Angeles Times.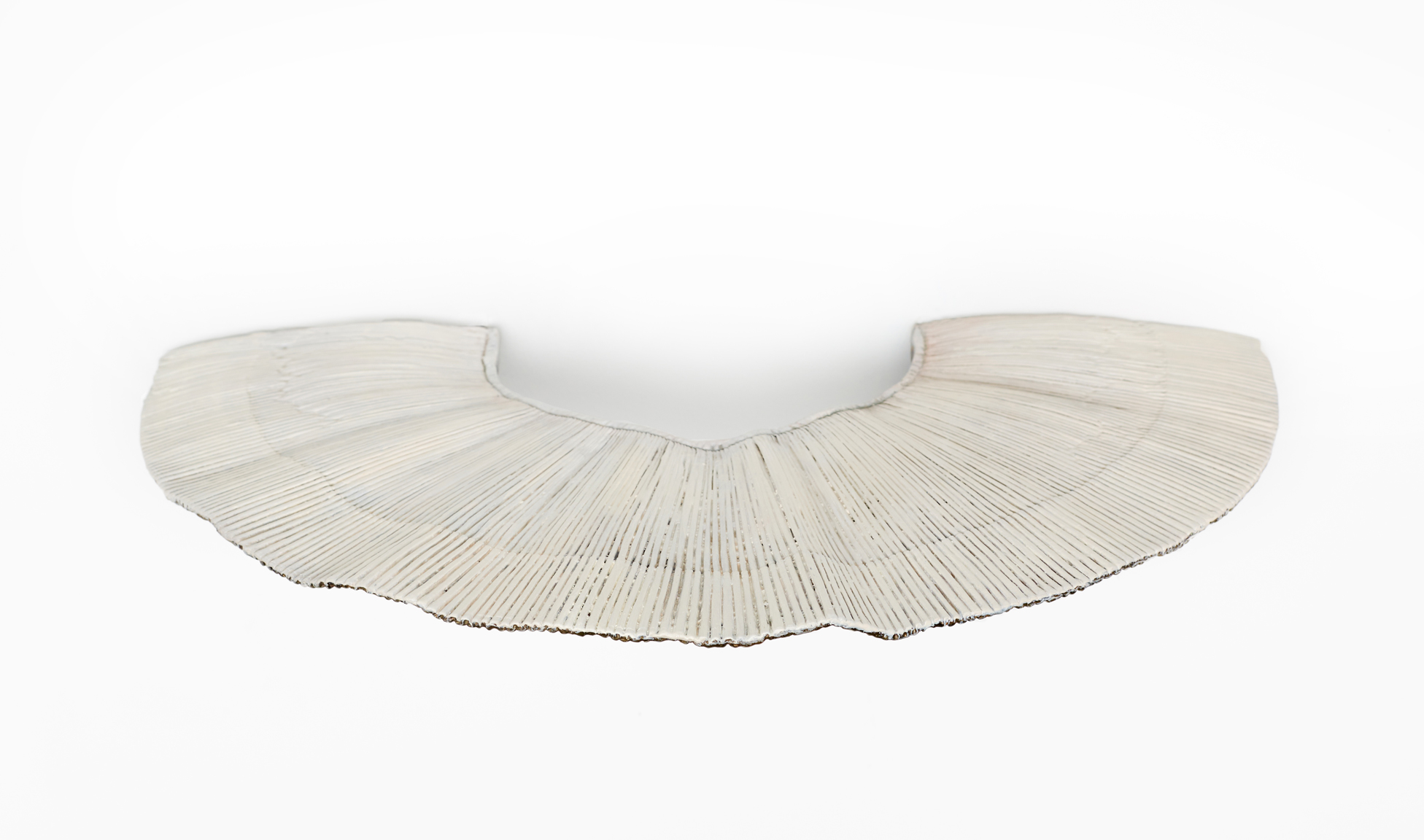 Lay Down Your Arms
April Street
opens October 30 2015 at Various Small Fires, Los Angeles CA

VSF is pleased to present Lay Down Your Arms, Los Angeles-based artist April Street's first solo exhibition at Various Small Fires. Street uses three spaces of the gallery to weave a dialog between a sound work, a sculptural installation and performative paintings. The exhibition is an environmental menagerie of objects and sounds severed from their original habitats, to re-form as one body in the throws of readjustment, surrender and transcendence.

The exhibition begins in the Sound Corridor with Two Mallards, a five-channel sound piece in which the artist and a stranger play out romantic scenarios through bird and cat calls. The two strangers fight, fall in love, sing, and compete for attention. Two Mallards serves and an introductory dialog between the artist and the audience, and acts as the 'visitor's welcome' as prelude to the Courtyard installation.

In the Courtyard, Street's Portrait of a Barn: 1840-2015 (2015) reconstructs the facade of a found image of an Appalachian cantilevered barn typical of the vernacular architecture of her childhood region of Virginia. The 15-foot barn facade, constructed in antique Appalachian wood, is accompanied by a 'painted shadow' resting on the Courtyard's ground, transposing this sculpture back to the world of images.

As is typical of Street's painting practice, the barn's painted shadow is made from stretched yards of hosiery and is an artifact of a private performative act. Through a series of scripted body positions, Street slowly imprints quasi-photographic imagery into pools of wet acrylic paint on canvas, her body wrapped in hosiery, an indexical gesture that recalls feminist performances of the 60′s and 70′s.

In the Viewing Room is Wandering Limb #14 (2015), a hosiery painting stretched onto a frame, removed from its canvas and stretched like an exotic hide, or spun into a suspended rope. An accompanying wooden floor sculpture, the missing structural peak of the outdoor barn, is also a carrying case for the painting.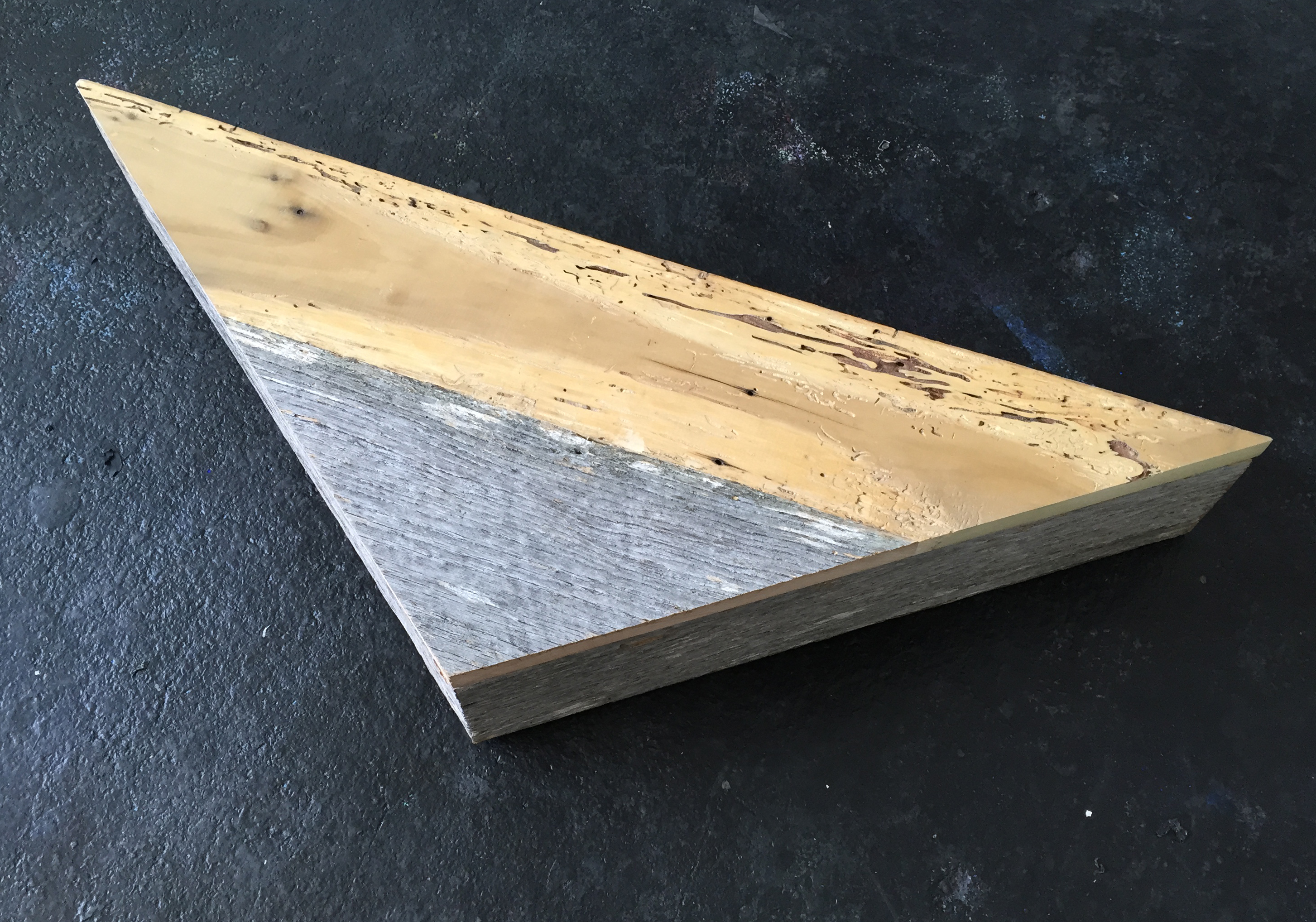 April Street a case for Wandering Limb 14 (2015), 14"x28" reclaimed wood from 1840, leather inset
-------------------------------------------------------------------------------------------------------------------------
Through April Street's continuous repurposing of her paintings material parts, she rebuilds them in a frankensteinian manner, opening up their surfaces to express not only the inner workings of the paintings history, but also to reactivate the severed limbs of a body of work to reveal the relationship that her performative paintings have with photography. Each of Street's paintings are tenuously spun into ropes, blindly cut from larger paintings and pinned to the wall as in the wandering limb series, or wrapped in black nylon with holes cut or punched through, revealing layers of paintings on hosiery material.

Street's paintings are artifacts of a private performative act in which the artist wraps herself in hosiery material to enact a series of precise body positions, recorded while sleeping, into the wet pools of an acrylic painting she creates on a canvas . The scripted impressions made by this act creates a positive and negative, and at times, the mark making results look almost photographic. The negative of the painting pressed onto hosiery is then reassembled onto the painting's frame. The canvas painting is hidden beneath the hosiery or on occasion kept by the artist in the studio. For the rope paintings, she uses the same skin-mimicking textiles as her paintings' ground, and then tightly spins the finished paintings into ropes held together only by a cast bronze knot and a bronze tack where they meet the wall or the ceiling. These spun paintings conceal most of the painting inside them and act as strands of DNA that would unravel without the weight of their fixture's weighty history.

The puncturing of the surface is made to reach inside for an understanding of how these objects can reenact a sensation of blushing or bruising skin and create the psychological territory of the painting itself. These gravitational configurations evoke a tenuous dialog between painting and sculpture about photography, while conjuring ideas of skin and duration, posturing and adaptation.
The work ignites a conversation with eccentric abstraction, feminist performance art from the 60′s and 70′s, Post-Minimalism and Art Informel, while occupying a new inner outerspace.
---------------------------------------------------------------------------------------------------------------------------